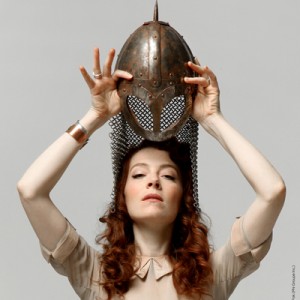 Sie hat bei den Smashing Pumpkins und bei Hole Bass gespielt und auch Solo ist Melissa Auf der Maur seit Jahren erfolgreich unterwegs. Nach der Veröffentlichung ihres zweiten Albums "Out of our minds" 2010 spielt sie jetzt eine ganz besondere Tour unter dem Motto "An Intimate evening with Melissa Auf dEr Maur: Bass – Synth – Visuals". Ihr einziges Deutschlandkonzert ist am 23. Mai im Club Vaudeville, Lindau. Vorab sprach Melissa Auf der Maur mit Watte pusten über ihre Zukunftspläne, die anstehende Tour und die Veränderung im Musikbusiness.
You announced your last album last year. Are you already working on the next?
Melissa Auf der Maur: Having devoted the last 3 years, full time, to "Out of our minds", it's safe to say I need a break. Need to refresh myself to open up to the next round of creative possibilities. This small tour of europe this May 2011, I will be revisiting my songs and songs of others, in a new way. Replacing drums with synths and working on more of an ambient mood, which I feel may open some creative doors for my next project.
You said that the next album might be a "real" concept album. What is going to be different to "Out of our minds"?
Melissa Auf der Maur: I think that every album and project of mine from now on will be conceptual. I certainly want to continue merging images with sounds and storytelling. We will see what happens… So that concept will stay the same, but the themes and symbols will change. Now I have to hunt for them.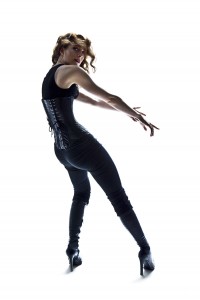 After playing festivals and solo shows with "Out of our minds" you decided to do something secret. What should the audience expect for the "intimate evening with you"?
Melissa Auf der Maur: I'm not sure yet, I am going into rehearsals this week, so I too will discover something. I played a show in Montreal in March, in which I tried a few songs in this direction, and it was very refreshing. More stripped down and raw, with new synth textures.
Why did you decide to reduce everything and make something completely oppositional to the tour last year?
Melissa Auf der Maur: It is because I want to experiment before I dive into a brand new chapter.
Is it difficult for you as a bass player to take center stage for the whole time?
Melissa Auf der Maur: Sometimes I miss just playing bass. Playing bass is like a vacation in fact… Tto just feel and play the music, without using words and your mind, is quite relaxing… Maybe I will start an instrumental band in the future…
Your show in Lindau is the only one in Germany. Do you play here because it's close to Switzerland?
Melissa Auf der Maur: Yes, I was invited to play there because it was near to where we will be in Switzerland.
Because we're talking about Germany: I have another question: On your first solo album you recorded a track with someone yodeling. How did you got this idea?
Melissa Auf der Maur: That was my swiss grandmother, Theresia Auf deer Mar yodeling. She would always sing and talk about her memories of Switzerland. She was very attached to her Swiss routes, which is why I am too.
You've been a part of music business for more than 15 years. In this time the business made a big change and nearly collapsed. You even founded an own label for your music. Is it for you as a musician harder in these times than in the past?
Melissa Auf der Maur: In some ways we have more freedom because of the technology that allows us to make the music, sell the music and talk about the music from home, without the need of a record label or manager- but in other ways it is harder because you must do it all yourself. I think it is a hard time for musicians yes, because it's almost impossible to make a living doing it now. The revenue streams are less and less – but I began playing music while in art school and I always treated it like afire art – not a commercial art. I never planned on making a living making music, and every penny I've made in music I put right back into an art or music project. In a sense we are living in a pure time, where there are less corporations involved, more artist run companies and that gives much more creative freedom . But you must work hard!!! No rest!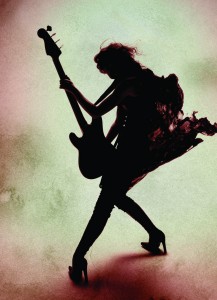 You're using many different kinds of arts like visuals, films, music or photography. Are you an allrounder?
Melissa Auf der Maur: I went to art school from the age of 6 years old. Visual art, performance, music, film, art studies and photography have been part of my daily life forever. So no, I can not separate them.
Retrospective what would you say was the main decision about your career as a musician?
Melissa Auf der Maur: The big turning point was saying NO and then finally YES to joining "Hole". That's when my fate as a musician changed. When I was invited to play in an established international band, and went from a to z overnight. It changed my life and future forever. I knew it then to, it was a unexpected destiny.
Looking forward what are your big aims for the next five years?
Melissa Auf der Maur: Grow. Relax. Share. Try new things. Read more. Love. Discover.
Thank you very much for answering the questions!